Brent Hull & The Build Show Network
A resource for builders and craftsmen seeking to improve their skills.
I had a television show called Lone Star Restoration on the
History Channel. It was fun to do, challenging, and I learned a ton. Many of
you have asked me, "when is your Lone Star T.V. show coming back?" Well, it's
not. But I do have a fun new show that I'm super excited about.
It's called the Build Show Network. It is the brain child of my
friend Matt Risinger. Matt has over half a million subscribers on YouTube. He
is a professional builder and a great educator of building science who lives in
Austin, Texas.
The Build Show Network is a resource for builders and craftsmen seeking to
improve their skills. On this new channel builders can explore the art behind
building science and quality craftsmanship, view detailed product reviews, and
get advice on which technology to consider for their next project.
I'm fortunate that Matt chose me and two other builders to
launch the site. Over the coming months, with more content and great
information, the Build Show Network will be the go-to source for how to build
well.
The Build Show is an example of how builders learn today. One hundred years ago, the way to learn was to apprentice under a great craftsmen or builder. Now, we can watch the craftsman demonstrate his skills through video.
Thirty years ago, when I was studying at North Bennett Street School for Preservation Carpentry there were VHS videos. Today we have social media networks like Instagram where builders and craftsmen share their work and their techniques for quality building.
When my youngest daughter was 12, she wanted to learn how to knit. She didn't buy a book or go to the library, instead she found a how-to-knit video on YouTube. The truth is how we learn has changed and television isn't always the best resource for great information.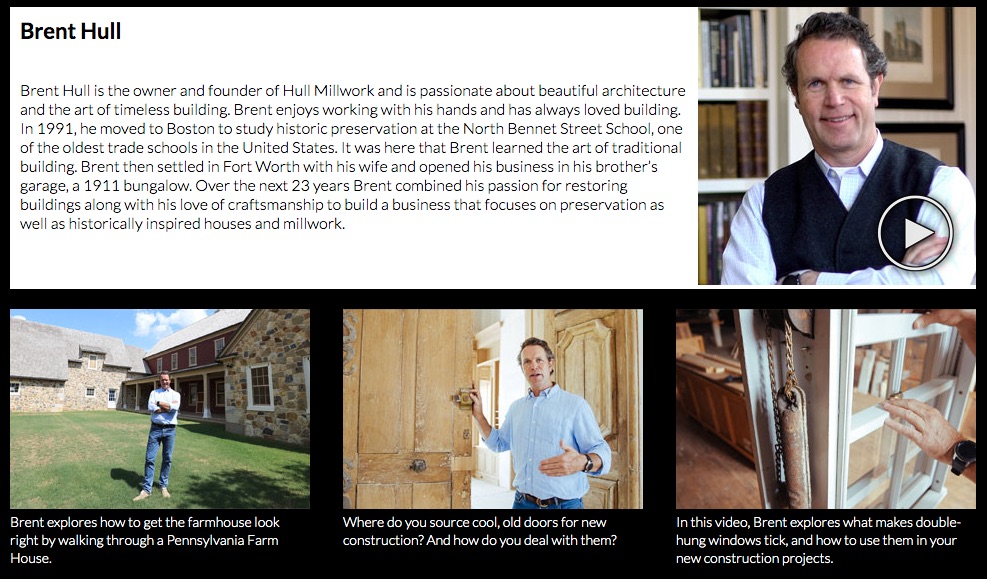 Join me on the Build Show Network every Monday. I'll be teaching about the finer points of building and design, with lots of historical references, picking up where my Building with History Video Series leaves off. I hope you find it informative and entertaining.
Be sure to follow us on Instagram @hullmillwork_hullhomes to catch up on all that is going on at Hull Millwork.
Can't get enough of Brent's videos? Find more here!