Papercity Magazine | History Channel Star Strikes a Blow for Historic Preservation in Texas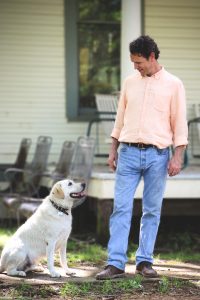 Fort Worth-based Brent Hull doesn't mince words when it comes to preserving the historic integrity of Texas cities. "We need to quit building crap and build more beautiful things," he says. Hull, who studied preservation carpentry at the prestigious North Bennet Street School in Boston, has spent the past 25 years restoring great old architecture and designing new structures around the country with the same quality and craftsmanship found centuries ago.
When it comes to historic preservation, Hull is the go-to-guy: In 2007, his company, Hull Historical, was chosen as the exclusive licensee for millwork by legendary Winterthur Museum in Wilmington, Delaware, the premier museum for American decorative arts.
Hull has parlayed his passion for good architecture into a TV series, Lone Star Restoration, which launched October 3, and airs Mondays at 10 pm on the History channel. The show began filming in April and has documented eight weeks of Hull and his crews at work on restoration projects around Texas, including 1904 Thistle Hill in Fort Worth.
"It's been a lot of fun, crazy projects," says Hull, who discovered a Brunswick pool table from the era in Thistle Hill's basement a few weeks prior to filming, and completely restored it for the show. Trap doors, secrete compartments, unexpected finds, and unique challenges — it's all there in the show.
We watch as Hull works on a wide range of projects including a 19th-century boat; a massive 1918 Prohibition era liquor safe; and a 20-foot exterior column from the 1920s — which is accidentally dropped during installation, generating a moment of tension. He tackles a odd but charming wooden train caboose, which after being discovered to be completely rotten, he must completely rebuild by hand. The research was intense. "I'd never worked on a train before," he says.
In east Texas, Hull is restoring a 1920s era house in its original condition. "It's like stepping back in time," he says. And in Austin, Hull is restoring 250 original windows from the state Capitol, an effort that requires removing the windows, hauling them to his workshop in Fort Worth, and meticulously removing the antique glass on each one before any work can start.
The show is hard work, Hull confesses, but he's pumped about the chance to educate viewers on the virtues of preservation. "I get excited about teaching people about things that aren't typically being talked about on TV," he says. "Instead of flipping a house and ripping out all the old and putting in new stuff, we're saving things. It's valuable.
"That's an important lesson I believe in."